Weekending It – What to Wear Spring 2017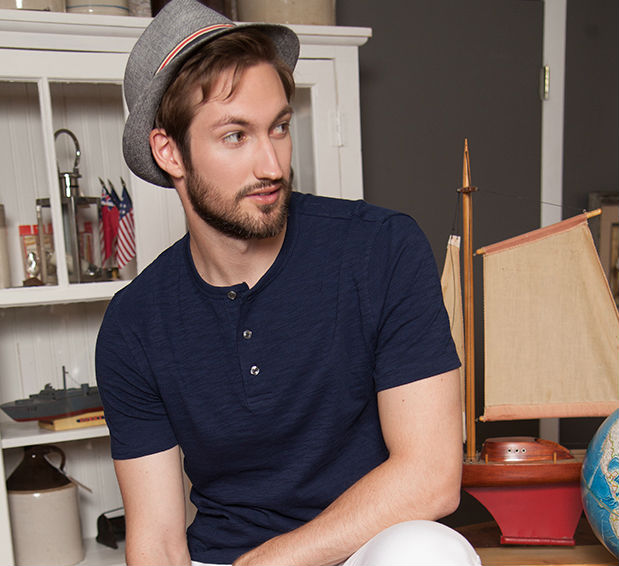 Written and Produced by James Vincent
Hope springs eternal as they say. Spring – a new beginning of sorts. New – clothes? New – car? New – furniture? This month's fashion style selection is vintage inspired. If you're into vintage, primitive and urban reclaimed industrial pieces – Andersonville Antiques https://www.facebook.com/Andersonvilleantiques/ in Chicago has just the style you're looking for. But don't let the name fool you. There is a mix of vintage and antiques with a little Mid Century Modern thrown into the mix. The stand out pieces are the custom reclaimed wood furniture pieces.
Spring isn't usually the time to get a three-piece suit – or not. This is not your grandfathers' three-piece suit. The three-piece suit will give you different ways to reinvent it into a variety of looks. The vest is the key element here. Say you've got a somewhat special luncheon to attend on a Saturday and you know you'll be strolling around in shops later – take that suit – yes a suit – and be creative with it. If it's slightly cool – substitute a jean jacket over the vest. Throw on a loosely knotted tie and a pair of sneakers and you'll be ready for what the day has to offer. The vest will also look terrific with a tee and jeans and so many other combinations.
Vest & Trousers, Cavani; Jean Jacket, Levis; Shirt, Bugatchi; Tie, Dockers.
So now you're ready to debut the suit at work? Don't do the obvious – at least with every wearing – be creative and make this suit look MODERN. Skip the tie, but button up a dress shirt all the way, keep the sneakers – just because, why not? And you've got a look that's bound to attract jealous stares from those that wish they had thought of this first.
Suit, Cavani; Shirt, Bugatchi; Pocket Square, Vintage; Sneakers, LaCoste.
What would a spring fashion spread be without florals? "Florals for spring? Groundbreaking." (Hat tip to "The Devil Wears Prada"). But, seriously – men's fashion can be a bit dull and after a long winter and coldish early spring – why not some florals? But own it. Don't stop there. Pop on a salmon color sport jacket, roll up the sleeves and pair that with shorts and sandals for a traffic stopping look.
Sport Jacket, Tommy Hilfiger; Shirt, Turk Man; Shorts, Izod; Sandals, Creveo; Wristbands, H&M.
As usual with the fickle Midwest spring – you'll need an all-around jacket/windbreaker/raincoat with a hood. Camo is almost a cliché at this point – but this new take on it seems fresh and well – forestry. You don't need to be a hunter to pull off this look with charm. Pair it with your favorite running shirt and khakis and you're ready for a walk in the woods – or – at least to your local Starbuck's.
Jacket, Hunter; Shirt, Under Amour; Khakis, Joe's; Boots & Sunglasses, Models; Pipe, Andersonville Antiques.
After a long winter wearing a lot of dark colors – staying with the color theme here – but not getting too wild – try out some color blocking in the form of a very soft, almost form fitting sweater. In cashmere here with nylon accent patches – it mixes up the usual lightweight spring sweater in an interesting way. Paired with a dark wash jean and some white Chuck's on your feet – it's an easy look for anyone to pull off and look good in. It's not high fashion but it sure looks swell.
Sweater, Bugatchi; Jeans, Rag & Bone; Belt, Levi's; Sneakers, Models ; Wristbands, H&M.
Then there are just going to be the days where you really don't want to even think about what to wear on a weekend day – you just want to get up and throw on something and get out and get going. Keep these basics in your spring wardrobe and you'll always know you've got something ready to grab-and-go. A pair of white jeans on a sunny day always works – damned be the "OMG not before Memorial Day!" naysayers. Paired with a dark color soft tee and a hipster retro hat – you really can't beat the look – and you are ready in seconds for what the day has to bring on.
Tee, Vince; Jeans, AG; Hat, Impermeable by Weatherproof; Wristband, H&M.
*Photography, Alejandra Guerrero http://www.alejandraguerrero.com/ Model: Scott for Ford Models Chicago; Grooming, Ramsay Marston http://www.ramsaymarstonhair.com/; Styling, James Vincent https://www.tradeshowoffs.com/; Assistant Stylist, Kimberly Bergmark; Shot on location at Andersonville Antiques, Chicago https://www.facebook.com/Andersonvilleantiques/