Get In From The Cold – Winter 2016 Wardrobe Essentials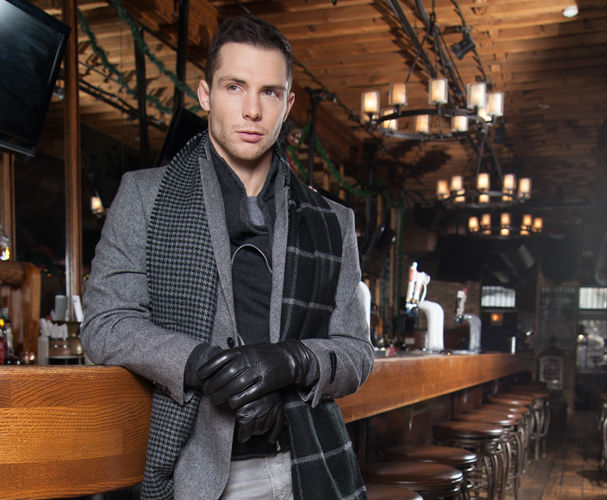 Produced and Written By James Vincent
The Holidays are over. Winter weather has finally set in – and with it, the resulting doldrums. Short of a business trip to Miami – or if you were smart enough to schedule a winter vacation in the Bahamas – what's a guy to do? Embrace the cold – and yourself, with some durable winter looks that will also turn heads at your winter fashion savvy.
Getting in from the cold in winter is work enough in itself, but once you're inside a place like Frontier in Chicago's Noble Square neighborhood – the fashion warmth sets in. With all the warm wood rustic charm, it's easy to camp out all evening and let the warm glow wash over you.
Forget the traditional topcoat over your business suit that's never quite warm enough – get there in style from work in a new parka. That's right – a parka over a suit. It immediately says you want to be warm and speaks a fashion sense that's your very own. Get one that's roomy enough to go over a suit and it will also be versatile with a chunky cable knit sweater or a denim jacket – a great wardrobe piece for layered looks. And while you're at the task at hand of blending in hearty, practical winter gear – thrown on that new pair of lace up boots, don't save them for knocking around on the weekend. Wear them with confidence with a suit to work – you can be fashionable and practical at the same time.
The suit itself – what else can you say about a gray chalk stripe suit?  It's an update on the classic pinstripe – without the gangster swagger. But don't dumb it down with a boring white or other solid color shirt – you'll get lost in the crowd. Select a large and  bold in pattern like this gingham in a hot color to offset the vertical chalk stripe. Another smaller pattern will just be overwhelmed by the larger chalk stripe – remember it's not your typical pin stripe that would go with just about any shirt. Then, select a bold color tie that picks up one of the colors in the gingham plaid.  Another pattern will be too much so go with a solid – a knit also brings some  texture into the equation.
What is it about a hearth that inspires dressing in earth tones? A herringboned sport coat is always a cold weather classic – and here's an update on that classic – with contrasting dark herringbone patches from elbow to cuff as well as the vest pocket. Skip the blue jeans for once and go with a shade of brown – here a medium caramel color – it dresses up the look just enough but too much. Pick up a subtle tone in the herringbone – a deep burgundy here, for a sweater for added warmth and paired with a loose vintage style tie and pinstriped shirt, you're ready for work or for whatever the evening holds. Dress it down with a most usable knit cap and you'll be ready for the harsh winter – but looking sharp at the same time.
Sometimes a day or evening just requires that you be comfortable – and warm.  Stay warm, comfortable and on trend with this '70's retro graphic inspired sweater jacket. Its warm enough layered up for outdoors – the hood will give you extra protection – and comfortable indoors as well. Add in a pair of deconstructed jeans and you've got a comfortable and interesting weekend look.
Black and white is a classic color combo at any time of the year – and with so many drinking establishments and restaurants going the rustic, reclaimed earth tone design route, what a way to stand out. These jeans aren't gray – they're a subtle light black pinstripe – another way to skip the old BLUE jeans. A black and white tweed sport coat will take you anywhere. It's easy to pair with gray flannel trousers, a classic white Oxford shirt and a repp tie – classic. But – have some fun with it. Any type of jean really works – even a dressed up pair of sweats. But try to forget about what kind of a shirt to wear. Layer up a super soft long sleeve tee with a fashion sweat – but not just any sweat – here a fashion asymmetrical zip sweat  – it will take you anywhere this winter. If it's not too cold, forget the outerwear and throw on a pair of gloves and an oversized scarf and there's no need to worry about a coat check.
And just because the holidays are over don't think it's time to retire the tux jacket into mothballs just yet. The tux jacket has been rejuvenated the past couple of seasons into something more to wear than just to weddings and the occasional benefit. It's really for any occasion that calls for just a bit more style and sophistication – or not. It's almost a dressed up sport jacket now. Wear it out for that odd night out when you want to stand out or not – there are so many options. But do opt for the best fit – the shorter length and fitted silhouette is what gives it that sportier look.
*Photography, Alejandra Guererro, http://www.alejandraguerrero.com ; Model, Justin for Ford Models Chicago; Grooming, Ashley Condron; Styling, James Vincent,  https://www.tradeshowoffs.com/; Shot On Location At Frontier, http://www.thefrontierchicago.com