Investigation into the Death of Natalie Wood Continues : A Well Thought Out Scream by James Riordan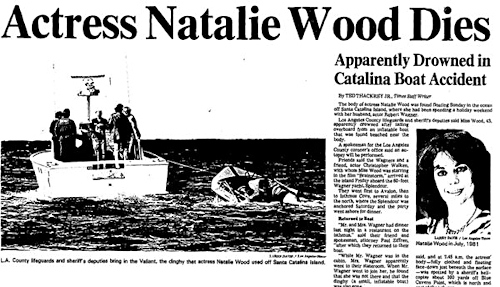 A few years ago I met Lana Wood at a James Bond event sponsored by my good friend Doug Redenius. Doug has amassed many James Bond collectibles from the films and even provided others for use in the 007 movies. The plan was to have Richard Kiel who played the steel-toothed villain Jaws in several of the Roger Moore Bond films appear at the event, but Richard took sick that week. It was the beginning of the end for Kiel whom I've spoken to a few times – enough to know that we lost one of the better humans in film when he passed,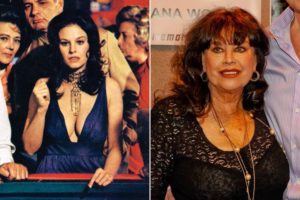 (Lana Wood as a James Bond girl (left and today)
Since Richard was unavailable Doug brought in two of the more famous Bond girls, Maud Adams who played infamous Octopussy in the film of the same name and Lana who played Plenty O'Toole in the James Bond film, Diamonds Are Forever. Although Lana was a fine actress her career was eclipsed by her older sister Natalie who became a mega star with appearances in movies like Miracle on 34th Street, West Side Story and Rebel Without a Cause.  Nominated for an Oscar before her 20th birthday for her supporting role in Rebel Without a Cause opposite James Dean in 1956, she was twice nominated for Best Actress for Splendor in the Grass in 1962 and Love with the Proper Stranger in 1964.  She was one of the brightest Hollywood stars in the '70s and her legend has continued to grow due to the bizarre circumstances of her death.
It's been nearly 37 years since Natalie Wood drowned while boating with her husband, Robert Wagner and mutual friend Christopher Walken on Nov. 29, 1981. The couple had gone sailing for the weekend around Catalina Island on their 60-foot yacht, Splendour, with Natalie's Brainstorm costar Christopher Walken and captain Dennis Davern. Authorities found Natalie's body one mile south of the Splendour yacht, off an isolated cove called Blue Cavern Point. She was wearing a flannel nightgown, wool socks, and a down-filled jacket. She was 43.
After an autopsy was conducted, authorities revealed that Natalie's arms had been covered in bruises, a scratch was found on her neck, and she had abrasions on her face. They also believed that all of those injuries had occurred prior to her drowning. Robert told the police that Natalie had gone to bed before him and he didn't notice she was missing until he went to their bedroom sometime after midnight and noticed she wasn't there. Because they found alcohol and two types of medication in her system, authorities ruled her cause of death as an "accidental drowning."
Just this past week the story was again in the headlines.  First CBS devoted an episode of 48 Hours episode on Saturday February 3rd .  On Monday, the Los Angeles County Sheriff's Department held a press conference to update the public about the case. While the case still remains a "suspicious-circumstances death," Lieutenant John Corina of the Los Angeles County Sheriff's Department's homicide bureau added that more than 100 people have come forward with information since it was reopened in 2011. "We're closer to understanding what happened." As a result of the new witnesses — which include acquaintances of the couple, people staying on Catalina Island, and people near the boat where Natalie drowned — investigators have re-created a timeline of the events leading to her death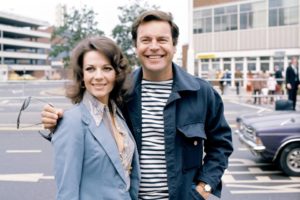 In that timeline, Robert was the last person with Natalie before she died, which Corina added makes him "a person of interest." Corina said in a press conference Monday that the details Wagner has offered up on the fateful night "really don't add up to what we've found."
"He's a person of interest because he's the last person with her before she went in the water," said Corina. "This is a suspicious death investigation. We want to know what happened from the time of the argument to when she got into the water."
While the investigators would love to hear Robert's "version of events," as his story has changed over the course of time, it seems unlikely he will talk. Corina said his department has made multiple attempts to reach out to Robert and his lawyer, but he has refused to speak with them. "We can never force him to talk to us," Corina explained. "He has rights, and he can not talk to us if he doesn't want to."
Of course, Robert's refusal to talk isn't the only problem investigators are facing with the case. "Time is our biggest enemy here," Corina said. "We're doing our last shot here to see if anyone else will come forward. When all the tips dry up, we'll move on to the next case."
The case was reopened in November 2011, after Dennis Davern alleged that Robert was respon-sible for Natalie's death and revealed that he "made mistakes by not telling the honest truth in a police report." In an interview with the Today show, Dennis said that Robert and Natalie had gotten into a fight on the night of her death and that Robert and he had agreed on what they would tell police. "There's actually more than one witness who came forward who heard them on the boat arguing," said Corina. "It was really intense and it was so bad [Captain Dennis Davern] went down to check on them because he was worried that there was some kind of an assault. That's when he was told to go away by Robert Wagner… Before it goes quiet."
Following multiple investigations, LA's chief medical examiner changed Natalie's cause of death to "drowning and other undetermined factors" nine months later. While Robert was never found guilty, he did admit that he and Natalie fought the night that she died in his 2008 memoir. "Nobody knows," he wrote. "There are only two possibilities; either she was trying to get away from the argument, or she was trying to tie the dinghy. But the bottom line is that nobody knows exactly what happened."
Christopher Walken also spoke out about the case in November 2011, telling Playboy magazine, "What happened that night only she knows, because she was alone. She had gone to bed before us, and her room was at the back. A dinghy was bouncing against the side of the boat, and I think she went out to move it. There was a ski ramp that was partially in the water. It was slippery — I had walked on it myself. She had told me she couldn't swim. In fact, they had to cut a swimming scene from [Brainstorm]. She was probably half asleep, and she was wearing a coat."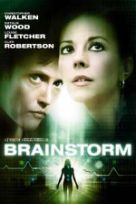 Natalie left two daughters behind, Natasha and Courtney, whom she shared with Robert, and was buried on Dec. 2, 1981, at Westwood Village Memorial Park Cemetery in LA.
In his 2009 book, Pieces Of My Heart: A Life, Wagner wrote that during his trip with Wood and Walken, he became jealous and argued with both of them. Later, Wagner, unable to find his wife, searched the boat along with the captain and noticed the dinghy was missing. Wagner assumed his wife had gone ashore, he wrote. The dinghy was found about a mile from the yacht and a mile from where Wood's drowned body was found.
In a 2009, The Daily Mail published an excerpt of Wagner's biography, in which he recalled Wood's memory of the two actors first meeting in the hallway of a studio where they both were filming. Natalie Wood was 10 years old and Robert Wagner was 18. "She always told me we didn't speak but that I smiled," he wrote. "Later, Natalie told her mother she would marry me. She did — twice."
The pair began dating when Wood was 18 and married in 1957. They divorced in 1962 and Wood later married British producer Richard Gregson and gave birth to a daughter, Natasha, in 1970. She and Gregson split the following year, she reunited with Wagner in 1972 and they remarried. Wood gave birth to their daughter Courtney in 1974.
In 2016, Wagner opened up to People about his bond with Natasha (who was raised with his daughter) and how difficult life had been after the death of Wood. "You just take it moment by moment and hope that it gets better and more light comes into her life. As an adult and as a man, I could not climb into (Natasha's) head. All you can do is truly love and care for them."
When I spoke with Lana Wood a few years ago, she confided that she believed Robert Wagner was implicit in her sister's death. "I've been given information that I think proves Bob was involved," she said. At the time however, she had decided not to pursue it further. "I just don't want to cause any more pain for Natalie's kids. I know she would want it that way and besisdes, Bob is well into his eighties now. There's no point in taking this further."
Last week, however, Lana sat down with Dr. Oz for an episode airing this coming Thursday to reveal what Wagner allegedly told her following her sister's funeral. "Well, it was after the funeral, back at Natalie's house," she told the TV host. "And… I couldn't find him. And I asked somebody, 'where is RJ' and they said 'he went upstairs into the bedroom.' So, I ran upstairs. And he was sitting on the edge of the bed and I walked up and said, 'RJ, what happened?'"
Lana claimed, "His response to me there was… 'It was an accident… I'm sorry,' which didn't really make any sense or answer any questions for me. And then at that point, somebody grabbed me by the arm. I seriously do not remember who, and said, 'Leave him alone.' And I said 'OK, fine.' And I walked away. It's an accident. That was it. That's all I ever heard."
Lana, insisted Wagner "never spoke to me, never told me what happened, never shared his feelings, never shared anything at all."
Lana, a fellow actress who starred as Bond girl Plenty O' Toole in 1971's "Diamonds Are Forever," claimed she was blacklisted from Hollywood following Natalie's death. Lana told Dr. Oz she received the surprising news from a former agent. "He called me and he said, 'I'm only making this call because I like you and I think you're a good person,'" she claimed. "He said, 'You've been blacklisted… so do not even try to get work anymore.' He said, 'I'm sorry for you, but there's nothing I can do, but you needed to know'… I was shocked."
Lana told Fox News Monday she was hoping to finally get closure for her sibling's sudden death. "It's very overwhelming and I don't know what to think right now," she explained. "… I have made my feelings clear over the years as to what I think went on that night. What do I think happened? A lot of lives were ruined, that's what I think happened. All that matters to me now is the truth."
Natasha Gregson Wagner was 11 when her mother drowned. She is now an actress and has, reportedly said she was happy with the investigation but claims her stepfather could not have been responsible. "All I know is that nobody loved my mum more than my stepdad," she was quoted as saying. "If he had heard anything he would have given his life for her. And that's a fact."
Wood's stepdaughter Natasha says she still talks about her mother a lot and remembers her as an "amazing woman". "The saddest part for me now is that we would have got on well and she would have got a lot of joy from me and my sister Courtney. "I'm sad she didn't live to see us beyond the ages of seven and eleven."
The mystery continues.