Devotional 8/16: Those Who Stood Up and Signed Part 1
I still remember how our Social Studies in high school drilled into our minds how the signers of the Declaration of Independence were risking their lives signing that document. That they were, yet they were not going to allow themselves to be bullied to by any music celebrity, actor, anyone who considered themselves "royalty", or  anyone regardless of their religious beliefs, sexual preferences, country of origin or gender.
Much like their world, in today's world, standing up for a certain political view can get you seriously injured or killed. Neither side has a monopoly on peace or love.  If you dare defy an anti-Trump protester one can get seriously hurt, injured, tortured on Facebook, or killed. The events in Charlotte, NC have shown us that that evil organization, the KKK is still active too.
I want us to better understand these 56 men who were willing to risk everything for their country. So, in the following weeks, I am going to tell you about them, in alphabetical order (mostly). I am not sure how many weeks it is going to take. I guess it will be based on how much I can actually find out about them as individuals.
Most of the biographical information will be taken from The Society of the Descendants of the Signers of the Declaration of Independence which gives extensive bios of each of the signers. Here, I shall highlight some of the interesting parts of their lives.
Josiah Barlett (11/21/1729-5/19/1795)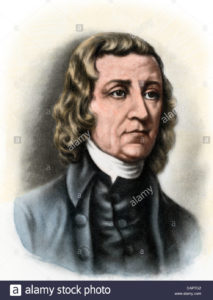 was a physician for most of his life. Later in life, he became involved in politics in New Hampshire. He served locally in New Hampshire and in 1775 represented New Hampshire at the Continental Congress. He was the 2nd person to sign the Declaration of Independence. He participated in the ratification of the Articles of Confederation and the construction of the Constitution. Then he retired to New Hampshire and served in various capacities, including as a member of the state Supreme Court and then Governor.
Carter Braxton (9/10/1736-10/10/1797) was the poor rich kid of the group. He was born of a wealthy family in Virginia. He traveled to England several times. He was a member of the House of Burgess and was chosen to represent his county first there and then at the Virginia Convention. He was also chosen to represent Virginia at the Continental Congress. He strongly supported the revolution financially. Unfortunately after the war, he couldn't recover his fortune. He really sacrificed so that this nation could be born!
Charles Carroll (9/12/1737) For most of Charles Carroll's life, his Catholic heritage dominated and influenced his life. He was born of a wealthy Irish immigrant and lived mostly in Maryland. However, he studied in France and England. There he saw first-hand the need for the separation of church and state as he experienced prejudice and discrimination due to being Catholic in both places. He left England hating England and all that it stood for. When he returned to Maryland, he was an adamant supporter of everything that the colonists desired to get rid of about England. When he was elected to the Continental Congress and signed, John Hancock challenged him that Charles Carroll was such a common name the English may mistake him for someone else. Carroll therefore signed his name,  Charles Carroll of Carrollton to not leave any doubt. After the revolution, he retired to Maryland and served in various capacities until his death at 96, the oldest living signer.
Samuel Chase (4/17/1741-6/19/1811)He lived a life going upstream for certain.  He was the son of an Anglican minister. He was educated in his home state of Maryland by his father.  William Paca, another signer of the Declaration of Independence was a friend he met when he was apprecinted to a law office in Annapolis. He practiced law for a few years. He finally got into an elected position after, "he won a highly-contested, vicious, nasty election". Soon after, he had to deal with the controversy surrounding the Sugar Act, the Stamp Act, and the Intolerable Acts. Chase and Paca were ready and willing to represent Maryland at the Continental Congress. He was a prominent politican in Maryland and in other places in New England, yet he was not afraid to be seen as a seditionist by the British. He is penchant for controversy was there after the war too. He was not part of the signers of the Constitution and did not agree 100% with all of it.
Romans 12:2 Do not be conformed to this world, but be transformed by the renewal of your mind, that by testing you may discern what is the will of God, what is good and acceptable and perfect.
————————————————————W.