MEN OF VALUE INTERVIEW : MICHAEL O. SAJBEL by James Riordan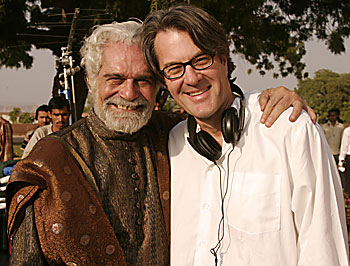 Michael O. Sajbel is a motion picture writer and director.  His most recent released films are The Ultimate Gift starring James Garner, Brian Dennehy and Abigail Breslin which was released theatrically by Twentieth Century-Fox and was one of the top selling family drama DVD's of 2009/2010 and One Night With The King, a faithful interpretation of the Old Testament Book of Esther starring Omar Sharif, John Rhys-Davies and Peter O'Toole.
He is currently writing and under contract to direct Thomasina, a remake of the classic Disney film and he is also in preparation to direct Wraith, a ghost story.  In building his career, which he considers at the halfway point, he has worked on over thirty feature films and over four hundred television episodes in numerous capacities, from directing special effects sequences, to cameraman, to writing and directing entire films.
Sajbel is a committed man of faith and, like many such men, is quick to admit that growing in faith requires recognizing not only the breakthroughs, but the setbacks as well.  "The first thing I would have to say is that I have made many mistakes in my life, " Sajbel acknowledges, "mistakes I deeply regret and I think that has been a cauldron for shaping my values.  For exam-ple, when I was in grade school people went out of their way and took extraordinary measures to inculcate in me a sense of character through Scouting, my church and other institutions.  Yet I still made mistakes.  What is character? Does it matter? Does it really affect and inform who you are in other areas of your life? And I have to answer, yes, absolutely.  So when you talk about values, my values have come out of this refining process.  Ultimately my values, the character my parents and others developed, won out, even though I strayed from them momentarily and sometimes significantly.  Values inform character and it boils down to who you are when no one is looking."
Sajbel is married with three children.  He was born and raised in Wisconsin and recognizes the value of family.  "I've come to learn that family is the most important thing. I don't know how I would've come through much of life without my dad, my mom and my brothers and sisters, their support and their example. There have been times in my life that I didn't think they were that important, that I was an independent guy, that I could strike out on my own, but family is everything and they're worth fighting for.  I also have my own family, wife and three kids and there's nothing I wouldn't do for them. Even if it means dropping everything to go to the backyard to play catch when deadlines are looming, the light is fading and the temperature is dropping."
Hollywood is awash with money and power and, for many people, that means doing what they want when they want to do it, but men of value often see things differently.  Michael recognizes freedom as "knowing that I can do something if I wanted to but having the wisdom to not necessarily do it."
Sajbel believes that his values have played a great part in his life: "My values have informed what projects I consider, what projects I turn down, the people I associate with and people with whom I do not.  And just certain situations that my values will no longer let me be a part of.  Also, there's a very, very big thing out there called worldview and I think my values have helped determined my broader world view.  How do I view the world? Through what filter do I process information? All of that goes back to values. I cannot consider a project that wouldn't really line up with my worldview in some way, because otherwise I just wouldn't know how to do it. Also, I don't want to be responsible for propagating something that I believe is wrong or misleading.  Now, you'd think that I would have learned something by now and I probably have, but one can make mistakes at any stage of their life. You sort of have to be armed and alert because the smallest of decisions can open up a torrent or swallow up years of your life."
Nearly every person of faith recognizes that seeking continued inspiration and sound spiritual knowledge is a must if one wants to grow in a deeper walk with God.  Sajbel is no exception: "I have had the immense privilege of knowing a number of men in my life who have had an influence on me. I could see where they were later in life and how that shaped their values, even if they had made great mistakes along the way as well. I was fortunate enough to do documentaries on Chuck Colson and Lou Zamperini.  I considered both of these men my friends.  Lou Zamperini even chaperoned my fiancé and I on a ski trip.  So I had some great teachers there.  But there were also many other men whom I've come across in the years who've lead by example and their lives are the result of their values and their decisions.  I noticed one of your recent articles was on Coleman Luck. Coleman has had more influence on me than he probably knows.  There have been many others including, of course, my father, who died over 25 years ago.  And not out of any sense of equal time or political correctness, several woman have also come along at critical times and been of influence.
Every person of faith needs to be aware of the changing world around them and Sajbel recognizes the shift from faith and true values to self idolization and materialism. "I grew up as a Boy Scout, saying the Pledge of Allegiance in my schools, marching in parades, and consider myself a patriot of the first-order.  I've also had the privilege of traveling around the world and believe that God really did shed his grace on America at its founding.  So my love of country has been influenced practically from the cradle.  Perhaps it's access to more media and the more voices we have now than just Walter Cronkite on the CBS Evening News way back in the day and so you hear many more voices, and in those other voices, I've sensed a change.  Not everyone loves America.  They hold her mistakes before her and condemn her roundly for things that have happened in history.  But I like the optimism of certain leaders that I've been exposed to over my years who, in spite of our obvious failings, look at America as a bright shining city on a hill. A great hope for mankind. I hope we don't ever lose that."
Even so, there is little question that the values of the nation have shifted away from the solid Christian standard that once defined them. "My ancestors came over based on that dream, that promise," Sajbel continues.  "And they lived it. I would digress, but not by much, by saying that my grandfather was even marched on by the Klan during the Al Smith election because Al Smith was a Roman Catholic and my grandfather was a successful and very generous Roman Catholic Dairyman.  To the best of my knowledge, that didn't affect him.  It may have even strengthened him. So, yes, the promise does have its blemishes, but it's still the promise.  Again, and perhaps I've been a little naïve growing up, but now, regarding the American dream, some of the voices I have heard are making every attempt to erode that. I was of the generation where men were coming back from Vietnam and they were being spit upon and called baby killers and that was really a seismic shift.  Not that I subscribed to it, but that others were so bold as to make their feelings known. Those voices in many ways have grown even louder.  I feel that our nation is more divided today than any time since the Civil War.  And I don't base that just on cable news or what people post on Facebook.  I do know this, if my children are going to have any sense of value or values, it's up to me.  Even if at times I will have to stand between my children and the culture.  And, of course, lead by example."
Prosperity often leads to a rejection of faith.  As a good friend of mine use to say, "Why pray when you can just write a check?"  Sajbel agrees: "I was once a member of a big church in Hollywood, the one in which I was married, and I often heard how that church was at its peak – filled to capacity – in 1959 and a few years after that. Well, no kidding. We were in the middle of the Cold War. Missiles were coming to Cuba. There were threats of annihilation left and right.  Duck and cover.  But in those days, I think there was a pretty blended society where you really couldn't tell if somebody was a Christian or not, and it didn't matter, and that's the point I want to make.  Fast forward.  I think that we're really getting to the point where you're either in an orange jumpsuit on your knees at the Mediterranean Sea with a knife held to your throat or you're in black suit standing over them. I think that day is coming.  I was in Rome last year and I spent a considerable amount of time in the ruins of the Circus Maximus.  This was the place, not the coliseum, where many Christians were murdered at the behest of Nero. The place had a capacity of something like 150,000 and another 150,000 could watch from the hillsides.  And I was wondering, this happened in history. Could it ever happen again? And for those 21 Egyptian Coptic martyrs of the Christian faith, their day has already happened."
America may still be the bright shining city of the hill, a beacon of hope, but it is not without its challenges.  "Well, I have witnessed political movements come and go," Sajbel says, "although now we call them election cycles, promises given and promises not kept and solutions offered that are never implemented because of fierce resistance. Or, on the other hand, things happening that the majority of Americans do not approve of. So maybe I've come to the realization that government isn't the solution.  One could actually give up hope if they were to look at recent events.  I can tell you this, that when I read the statistics about how many people are now on food stamps and unemployed and so forth, it gives me pause. I was raised to grab a shovel, go knock on doors and ask people if they wanted their sidewalk shoveled or their grass cut. In fact, I wasn't even asked to do that. I did that on my own. Now I'm not saying that at some point in your life you don't need a helping hand, but the value of hard work, the value of pursuit of a job and a career, the value of family; those things seem to have been degraded or devalued these days.  Now we're either "mean Republicans" who don't want to give anyone a helping hand and even take away what little they have or we're Progressives who don't mind doubling the deficit and letting the government run every aspect of our lives, including what we can eat or drink."
I asked Sajbel what he thought needed to happen for things to get better: "Better? Great question.  I'm old enough to know that I don't have all the answers and I'm also wise enough to know that there have been times that I've contributed to the problem, not solved it. But I will tell you this, I think it's deeply tied to faith in God, the church, and, like macro-economics, I think of each church as a neighborhood and they should be responsible for the social problems of that neighborhood (without putting it all on the pastor or priest, either). I believe that we are responsible for our own lives, our environments and the consequences of our decisions."
Spoken like a true man of faith with real values.  Michael O. Sajbel is one who not only can speak the talk but also does his very best to walk the walk.