Spring Fashion 2015 – Tailor It To You – Key Items With Transferable Fashion Skills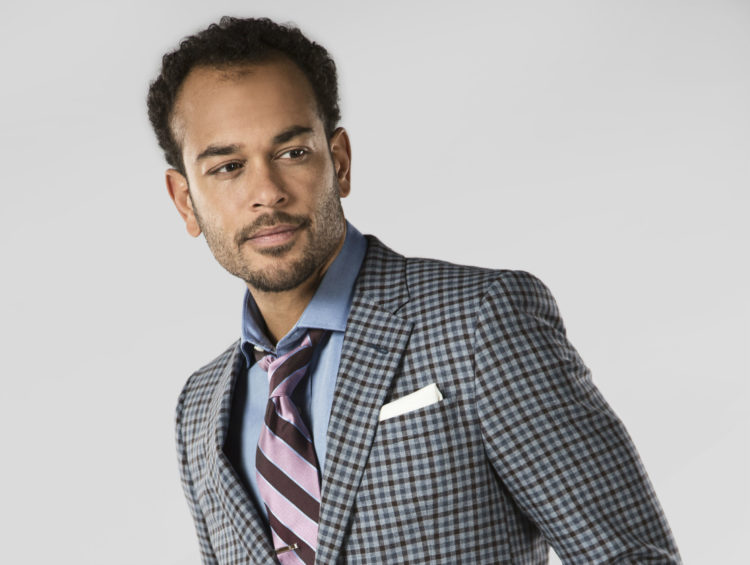 Written & Produced by James Vincent
It can be hard to know what to buy to freshen up your wardrobe for a new season when there's still snow on the ground and temps hovering around freezing. Also, with so much noise from every men's fashion web site, magazines, blogs etc. on what you SHOULD be wearing/buying: "10 Key Fashion Items Every Man Should Own", "5 Fashion Trends To Jump On To NOW" ad nauseous, it's hard to know where to start. There is, however, a way to acquire a few key wardrobe items that make sense. Items you can buy that have some transferable fashion skills – especially tailored items.
First and foremost, start out with a slim silhouetted suit. Every man should have a glen plaid suit in their wardrobe. The very nature of the different colors in a Glen plaid lend it to multiple variations of shirts and ties. This Glen check plaid  with its' subtle shades of lavender, grey and blue will give you endless shirt and tie combinations – but, do yourself a favor and don't wear the jacket as a separate piece – it just doesn't work. The lighter weight of suiting material does not lend itself to mixing with jeans, khakis etc. It's about the texture. A sport coat or blazer is going to have a heavier weight and feel to it that can mix with a jean or khaki. A suiting material is generally lighter weight, usually mercerized wool that just doesn't lend itself texture wise to be paired with jeans for a great spring fashion look.
Suit, Coppley; Shirt, David Donahue; Tie, Nordstrom Rack; Cuff Links & Tie Bar, Vintage.
Since it is still cold, but spring fashion isn't all that far away, go ahead and invest in a spring weight top coat that could easily work in early fall as well.  Don't think of a top coat as only for winter – it is an essential piece for any man's wardrobe be it winter or spring fashion.  This slim, navy, cotton trench coat will work with anything in your wardrobe. Here with a sport coat, tie and trousers – it's a traditional classic stand out. It can also work just as well without a jacket over a spring weight sweater and jeans – pick your own wash. Again, the idea is to think beyond the items' initial purpose. This trench works on many levels – take it from a rainy weekend knocking around to that same rain on Monday over your business suit. The trench coats' plainness is its' virtue at the same time – it will work with anything.
Top Coat, H&M.
Give yourself some relief from the winter doldrums and get some color into your wardrobe. This muted but colorful gingham style checked plaid jacket can go to the office with a slightly loosened tie nodding to the casual aspect of the red linen and cotton blend trousers. It can also be dressed down with a tee and a pair of sandals for a casual Saturday. Don't worry about the wrinkles with a creased trouser – they're linen – they're supposed to wrinkle. The crease says they're still dress trousers and the wrinkles say they can be casual. You're getting a twofer with a trouser choice like this one.
Sport Coat, Coppley; Trousers, Incotex 1951; Shirt, Tommy Hilfiger; Tie, Santorelli; Belt, Perry Ellis Portfolio; Pocket Sqaure, Vintage.
This blue and yellow Glen plaid windowpane combo sport coat dresses up very neatly for a fresh spring or  summer business day outfit. But look how effortlessly it dresses down for an evening out or a weekend day event. A dark wash jean works very well as here with a polo – this time in a primary bright yellow picking up on the lighter yellow in the jacket – but go ahead and add a pair of white jeans or a rumpled pair of summer weight khakis and the possibilities multiply.
Polo Shirt, Bobby Jones; Jeans, Hudson; Belt, Timberland; Bag & Wristbands, H&M.
Don't look at a new sport jacket as just to be worn with dress trousers, shirt and a tie. Think about its' transferrable fashion skill to – at the very least – jeans – dressing it down. But go beyond that ability and pair it up with say – shorts, and you will start to build a wardrobe that is tailored to you. While wearing a sport coat with a pair of shorts may not work for everyone, it is an example of looking beyond what that sport coat initially is as a tailored piece. This versatile checked plaid is an excellent choice for dressing up and dressing down. Its' colors lend it well to wearing with dress  trousers, jeans, khakis and here – shorts with a soft denim like finish. And don't feel like you HAVE to match up the colors exactly – as we did here by adding in this red polo shirt. The pop of color is unexpected and provides the jolt that propels the look forward.
Sportcoat, Coppley; Polo Shirt, Bobby Jones (www.bobbyjones.com); Shorts, 14th & Union; Belt, Penguin; Cap, Sunglasses & Wristbands, H&M, Pocket Square, Vintage.
In the end men want a wardrobe that makes us feel confident in business – but a wardrobe that is also comfortable and versatile – something we can feel confident to relax in as well. Think ahead of the season and do some planning – start with your tailored pieces first. Then think about what you KNOW works for your body type and lifestyle and go from there.
*Photographer, Diana Kim I eunphotography.com; Model, Anderson with Ford Models Chicago; Grooming, Ashley Condron; Styling, James Vincent https://www.tradeshowoffs.com/