6 Must Have Menswear Looks For Winter 2018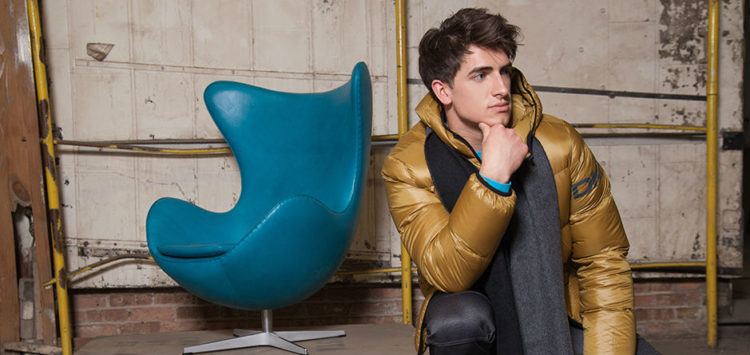 Written and Produced by James Vincent
And another new year. And – of course, here in Chicago – the beginning of another cold and dreary winter. Another way to look at it though is a chance to freshen up your look for the long winter ahead. Much like say, reupholstering a classic sofa – if the frame is still in good shape – a new and fresh fabric can brighten it up for years to come. Comfort Upholstery http://comfortupholstery.com/ – located in Chicago's hidden gem of a neighborhood, Bridgeport – is just the place to start a new life for your sofa. Specializing in Mid Century Modern pieces, Comfort Upholstery has been hard at work revitalizing favorite family frames for three generations. Stocked with hundreds if not thousands of fabrics, the craftsmen and artisans there will breathe new life into your treasured Mid Century classics.
Your frame can also use a freshen up – even in winter. What a great time to experiment with new looks when stores – both online and bricks-and-mortar – have gigantic sales post-holiday season. A good place to start is a new and –  a much needed – item of outerwear. In this case a good puffer coat. But do yourself a favor and pass by all of the blacks and gray puffers and opt for a bright color. It ensures that you will stand out in a dreary, barren backdrop – and if there's snow – your frame will pop out instantly in technicolor.
Puffer, DKNY; Scarf, Polo Ralph Lauren; Tee, Vineyard Vines, Sweatpants, Avia; Boots, Model's; Wristbands, H&M.
Another winter classic that is hard to find at times is a good turtleneck. A turtleneck frames your face and instantly makes you look cozy, warm and inviting. It doesn't matter if it's a fine cashmere that you could wear under suit coat or a thick cable knit – get several.  Get one in a bright, warm color to stand out in a crowd, pair it with a quilted vest and your good to go on a more mild winter day.
Down Vest, Scotch and Soda; Sweater, Peter Millar; Scarf, Polo Ralph Lauren; Jeans, Joe's; Boots, Steve Madden.
Sometimes, just for a quick run from your car into a store in frigid temps, all you need is something in a heavy weight fabric so your're not all bundled up and sweating in your car – but you also want to look good. Go for a thick quilted outerwear style shirt. And put some color into it. Go by all the racks and shelves with their black and gray shirts and get one of probably only two or three shirts in a bold color that a timid department store buyer was willing to take a chance on. You'll be glad you did.
Quilted Shirt, Lucky Brand, Inc.; Hoodie, John Varvatos; Sweatpants' Adidas; Wristbands, H&M.
Along the same thought train in the not-wanting-to-be-all-bundled-up-in-your-car for a bunch of afternoon winter errands – try a different style of layering. The tried and true jean jacket. But get one with more style than the standard hip waisted variety. Try one longer in silhouette and attitude with zippered, slash side pockets and distressed, wrinkled fabrication. It's not only more stylish – you'll look great but also give the impression that style comes easily to you. Throw in a colorful, wild patterned shirt and it's an instant look you'll go to again and again.
Jean Jacket, Jerimiah; Shirt, Robert Graham; Tee, Vineyard Vines; Jeans, True Religion; Belt, Columbia; Wristbands, H&M.
There will be times, of course, that you – and your furry friend – will need to up the ante in your look – for whatever reasons. Whether it's for the office, an engagement party – or just to impress and wear something besides sweats for a change. Sometimes not even all that much – so a dressed down/up look is one way to go. Rather than pairing a double breasted jacket and tie with trousers – think of a dressed up jean as a way to go. It won't look quite as serious – and that's a stylish good thing.
Sport Jacket, Lauren Ralph Lauren; Shirt, Tommy Hilfiger; Tie, Ike Behar, Jeans, Perry Ellis; Tie Clip, Nordstrom Rack.
Then there will always be a time – even in winter – where nothing but a full-on suit has to be the first option. You also want something that will last a few seasons – but – try and balance out the longevity desire with an option to stand out in a crowd. So when you go out shopping for a new suit and as far as you can see is a sea of gray and black suits – keep your eyes peeled out for something that pops out of the crowd. Like a blue plaid suit. Now, that will make a statement. and –  plaids are still trending – plus – in winter you can easily thrown on a pair of boots to keep it fun,  so – go for it!
Suit, Nick Graham; Shirt, Lorenzo Uomo; Tie, Pocket Square & Tie Bar, Nordstrom Rack; Belt, Robert Graham; Boots, Steve Model's.
*Photography, Alejandra Guerrero, http://www.alejandraguerrero.com/; Model, Alex for Ford Models Chicago; Grooming, Ashley Condron, http://www.rcbeauty.com/; Styling, James Vincent, https://www.tradeshowoffs.com/, Furry Friend, Cosmo; https://www.instagram.com/cosmothescottie/ Shot on location at: Comfort Upholstery, http://comfortupholstery.com/