The Fujiwhara Effect – When Hurricanes Collide : A Well Thought Out Scream by James Riordan
I know what you're thinking when you see these weather maps with four huge hurricanes swirling around — what happens if they collide?  Of course, if you live in the path of one of these monsters, that thought practically paralyzes you with fear.  For those of us who have no loved ones in that path, there is a morbid curiosity that arises.  What if four big hurricanes joined together to became A GIANT HURRICANE?  I mean, since hurricanes are already huge, what kind of destruction would something that big create.  Well, the good news is you don't have to worry about that thanks to a man named Sakuhei Fujiwhara.  Mr. Fujiwhara was a Japanese meteorologist who studied this idea intensely and wrote about it in a 1921 paper about the motion of vortices in water.
Sakuhei Fujiwhara (then)
 Sakuhei Fujiwhara (now)
Basically, when huge storms come with 900 miles of each other, their centers will begin orbiting cyclonically (counter-clockwise in the Northern Hemisphere and clockwise in the Southern Hemisphere) about a point between the two systems (while the Fujiwhara Effect is the same in nontropical zones as it is in tropical zones, the storms may begin interacting with 1, 200 miles of each other in a nontropical zone instead of the 900 miles in tropical zones). The two storms will be drawn to each other, and eventually merge.  Scientists differ over whether this is due to the divergent portion of the wind or vorticity advection. When the two vortices are of unequal size, the larger vortex will tend to dominate the interaction, and the smaller vortex will orbit around it.   Eventually the smaller hurricane will evaporate into the larger, but this combination does not increase the power or voracity of the larger storm.  Two smaller storms may combine to make a slightly larger one, but when two large storms combine, the smaller of the two basically disappears without having a significant effect.  This phasing out of the smaller storm usually occurs when the systems are within 300 kilometres (190 mi) of one another.
   Tropical cyclones Yule and 16W merging, in August 1997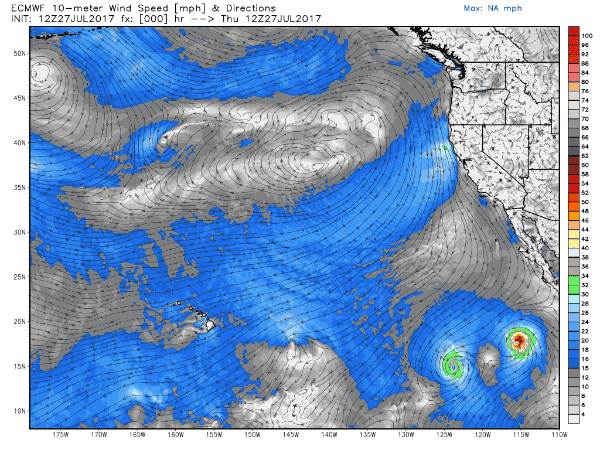 Following are some examples of the  Fujiwhara Effect broken down by regions..
North Atlantic
Hurricane Iris of the 1995 Atlantic hurricane season interacted with Hurricane Humberto, before interacting and absorbing Tropical Storm Karen during September 3.  In 2005, the remnant low of Tropical Depression Thirteen moved northward and then northeastward around a non-tropical low located to the north of the system. It briefly strengthened into Tropical Storm Lee. Thereafter, Lee weakened back to a tropical depression as it moved northeastward and northwestward around the eastern side of the non-tropical low and eventually absorbed the non-tropical low. In the same year, Alpha was absorbed by Wilma.
In 1974, Hurricanes Kirsten and Ione interacted in a Fujiwara interaction, as Ione was pulled north east, while Kirsten was pulled to the north west.  In the same year, Francesca and Gretchen interacted with each other, until they merged on July 19.
In 2001, Gil absorbed Henriette but associated convection totally dissipated during the merger and did not return afterwards. In 2005, Lidia was absorbed by Max. In 2014, Karina initially moved west, but was steered back east by an interaction with Lowell, where it was absorbed by Marie. In 2017, Hilary interacted with Irwin, Hilary stopped Irwin's westward movement, and caused Irwin to turn north.
Northwest Pacific
In September 1994, Typhoon Pat and Tropical Storm Ruth completed a full orbit around their centroid before collapsing into a single cyclone. In August 1997, Tropical Storm Yule merged with Tropical Depression 16W.
In October 2009, Typhoon Parma interacted with Typhoon Melor, affecting the movement of Parma. Parma was moving through the South China Sea but made a recurvature move to southeastward, so it made its second and third landfall over northern Luzon. In addition, due to the interaction with Melor, Parma weakened into a tropical storm by October 4.
In November 2009, Typhoon Nida absorbed Tropical Depression 27W (Urduja) and become a powerful typhoon. In August 2010, a Fujiwara interaction occurred between Tropical Storm Namtheun and Severe Tropical Storm Lionrock. Namtheun turned southwestward while Lionrock turned eastward. Later, Namtheun weakened into a tropical depression in the Taiwan Strait and was absorbed by Lionrock.
In August 2012, a Fujiwhara interaction occurred between Typhoon Tembin and Bolaven. Tembin was moving west, while Bolaven caused Tembin to turn east, resulting in a counter-clockwise loop of Tembin which caused torrential rain in Southern Taiwan.
In August 2013, Severe Tropical Storm Pewa absorbed Tropical Storm Unala. In August 2016, a Fujiwhara interaction occurred between Typhoon Mindulle and Lionrock. Lionrock was moving west-southwest, while Mindulle caused Lionrock to turn east, resulting in an erratic motion of Lionrock to the south of Japan.
In July 2017, Typhoon Noru absorbed Tropical Storm Kulap. Later in the same month, a Fujiwhara interaction occurred between Typhoon Nesat and Tropical Storm Haitang, Nesat caused Haitang to turn northeastward, eventually the remnants of Nesat was absorbed by Haitang over Fujian.
Southwest Indian Ocean
In 2008, Tropical Cyclone Fame began orbiting Tropical Cyclone Gula with the stronger storm, Gula, absorbing Fame. In 2012, Cyclone Giovanna and Tropical Storm Hilwa interacted in a Fujiwara interaction, as Giovanna was pulled to the north, while Hilwa was pulled to the south.
South Pacific Ocean
During January 1998, Cyclones Susan and Ron interacted with each other, before Susan absorbed Ron during January 9.