Suit Up For Fall – What To Wear Fall 2017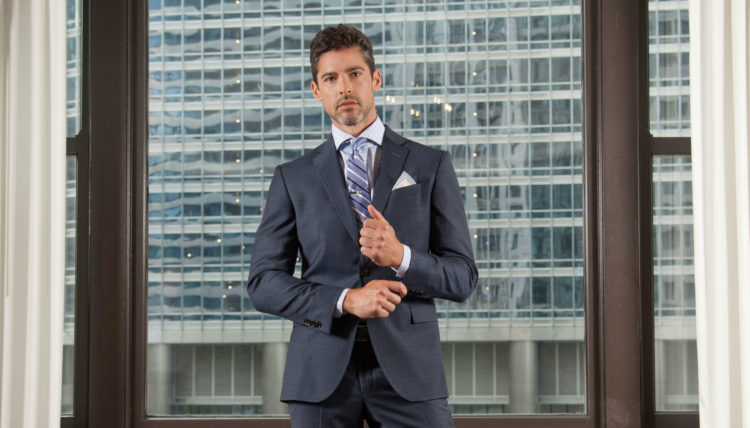 Written and Produced by James Vincent
What is it about late summer that makes travel sounds so inviting? Is it the hint of cooler temperatures that brings about the desire to dress up again in a suit and tie in a city where no one knows you? Hang out on a hotel roof top bar and gaze at beautiful city views? There isn't a hotel in downtown Chicago with better views than LondonHouse,  https://londonhousechicago.com/
The transformation of the London Guarantee Building into the LondonHouse Chicago Hotel is one of the most ambitious projects of Chicago's current hotel boom. In 2013, Oxford Capital Group acquired the Neo-Classical and Art Deco high-rise situated on the former site of Fort Dearborn. Since then, the historic structure has been restored. A 22-story glass tower designed by Goettsch Partners was added on a previously unoccupied property on the Wacker Drive side of the building. The resulting 452-room LondonHouse Chicago Hotel opened in May 2016. It includes 25,000 square feet of event space and Chicago's only tri-level rooftop bar with river views that are out of this world.
Arrive looking the part – not too dressed up but enough to be noticed. A versatile sport jacket like this gives you a lot of options. Leave in the zip quilted lining and it makes a perfect early autumn outerwear piece that looks great with or without a tie. The subtle hue of the jacket looks great with jeans – for a day look, as well as with a pair of gray flannel trousers for an evening look.
Sport Jacket, Ted Baker;  Shirt, Tommy Hilfiger; Jeans, Joes; Tie, Zegna; Pocket Square, Simonnot-Godard; Tie Clip, Vintage; Belt, Nautica.
When you get to your room prepare to be dazzled by the view – a perfect mood setter to get properly suited up for a night on the town starting with a cocktail in your room. Every guy looks good in a gray suit – so every guy needs a gray suit in his wardrobe arsenal . It can go to the office as well it can be dressed up for evening. Look for the best proportions for today's suit – narrow – but too narrow lapels, body hugging but not tight with double vents. It's still nice out and you still have a tan so go out sans socks for a very pushed forward look and attitude.
Suit, Ralph Lauren; Shirt, Michelsons London; Tie & Pocket Square, Pierre Cardin; Belt, Penguin; Loafers, Seabago.
If your real reason for the trip is business, then look the part with a subtle, muted plaid suit in blue and gray glen plaid. Its color and style says you've got your own sense of fashion without being overly flashy for a business event. Again – choose a slim but not skinny silhouette and narrow but not too narrow lapels – you want  to look business fashion forward – not like you're strutting down a runway.
Suit, Ted Baker; Shirt, Lorenzo Uomo; Tie, 14th & Union; Pocket Square, Calibrate; Belt, Penguin.
As with any trip – business or pleasure – it's always a good idea to pack a tux jacket. It doesn't have to be a full tux and there doesn't necessarily have to be a special event to wear it to. Dress up for your date – and give her/him a "heads up" that it's going to be a special evening – so, dress accordingly.
 Tux Jacket, Paisley & Gray; Shirt, Shirt, Broletto; Trousers, Theory; Tie, Calvin Klein.
Sightseeing. Perhaps it's just an easy afternoon of a museum and lunch with friends and see a few sights. But – why not put forth a little effort than the usual jeans and tee shirt? Have fun with it – still wear jeans – but in a color. Pick up that hue in a casual, knit tie (loose knot)  and again in the shirt and you will look great as you absorb the sights and sounds of this city that is your temporary home away from home.
Sport Jacket, Kroon, Shirt, Tommy Hilfiger; Tie, Vineyard Veins; Belt, Nautica, Tie Bar & Pocket Square, Vintage.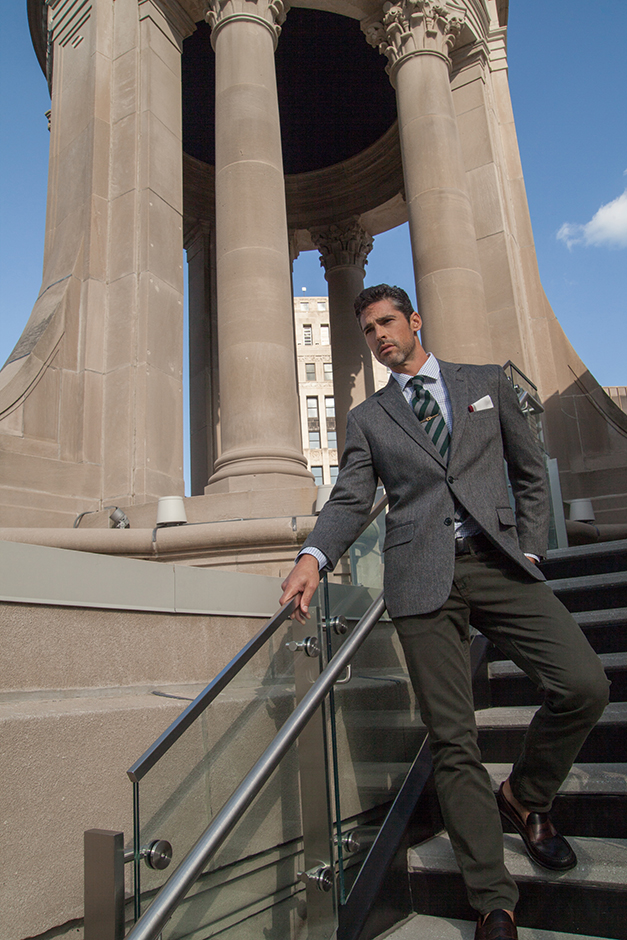 As your stay comes towards an end and you've knocked everyone out with your style quotient – you've also probably gone through your carefully curated wardrobe selections that you packed. Save enough room in your bags for a casual exit that will leave everyone thinking – where did that come from? It's still warm enough for shorts at times and cool enough for a jacket – take both and leave looking your best and feel totally comfortable at the same time.
Bomber Jacket, Tommy Hilfiger; Shirt, Brave Soul London; Shorts, Tommy Hilfiger; Sneakers, Nautica.
Photography: Alejandra Guerrero, http://www.alejandraguerrero.com/; Model: Stephen for Ford Models Chicago; Grooming, Ashley Condron; Styling: James Vincent, https://www.tradeshowoffs.com/; Shot on Location at LondonHouse Chicago, https://londonhousechicago.com/