Spring 2017 – Key Wardrobe Items For A Flip-Flop Fake Season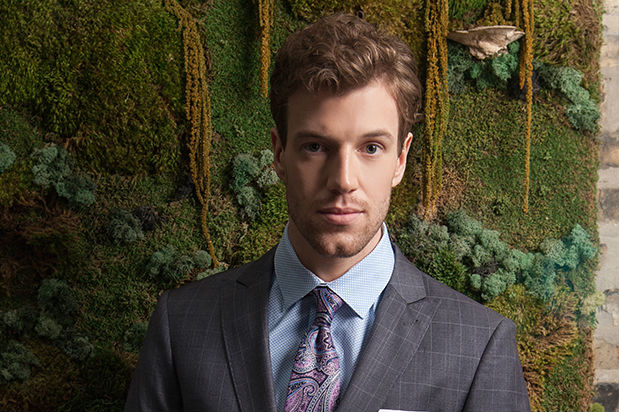 Written and Produced By James Vincent
Spring in Chicago is virtually non-existent – cold and rainy one day and somewhat warmish the next only to flip back to gray skies and back to the winter coat for a few days. What's a guy to do? Duck the weather for a few hours relaxing with drinks and small plates at Celeste www.celestechicago.com  – the blink-and-you'll-miss-it eatery designer cocktail establishment in Chicago's tony River North district. Relax on the top floor's glass covered garden bar and feel like its spring anyway. There's a 'plus' at Celeste as well – the original building was a light industrial establishment designed by famed Chicago architect Louis Sullivan.
A new season requires a new suit – even if you think you don't need one, you probably do. Whether you were or weren't wearing scratchy woolen suits all winter, spring is time to bring in some new looks into your wardrobe. Opt for a suit with a slim silhouette – slim is just not going away anytime too soon. Look at the labels if you're buying off the rack – it will not only say its "Slim" somewhere – but it will definitely feel slim – so, try it on and look in the mirror. You will not only feel the difference – you'll see it. If you're doing custom, just tell your sales person, they'll know exactly how to instruct the tailor.
Suit, English Laundry; Shirt, Report Collection; Tie, Pierre Cardin; Pocket Square, Vintage; Belt, Reaction Kenneth Cole.
A slim suit isn't for everyone unfortunately. But even if you aren't model size, there are subtle things you can do to get the right look and feel of a more modern silhouette. Look for a suit without overly padded shoulders so they form to your natural shape. Have the trousers altered without a 'break' – have them end just at the ankle. Not only is that a more modern look – patterned socks are on trend – so you can show 'em off. Another style option to go with is a shorter jacket length – right where your butt curves in. Don't forget the sleeve length of the jacket too – don't have them dragging down to your knuckles. Crop them right at that bone that sticks out on your wrist so you can show a quarter inch of shirt cuff.
Bright color can be tricky to pull off in early spring in a cold climate – if you can even find it. One sure way to introduce some color into your life after a dreary Chicago winter – is in your work out gear. Whether it's running, training – or – running out for groceries, you'll find plenty of bright color in performance apparel. Performance apparel is also becoming more and more a part of everyone's everyday apparel – it just works.
Jacket; Hawk & Co., Tee, Nike; Compression Tights, Under Armour; Sneakers, Adidas.
Then there's that messy spring day when you just don't want to go to much effort to do anything – much less trying to keep your look on trend. Those kinds of days just require a chill look that is not any one style or another – just comfortable and you can still feel that you aren't in a fashion never zone. The omnipresence of the 'athleisure' clothing trend can, again, be used to your advantage – if you can't beat 'em, join 'em.
Jacket, Levis; Sweater, H&M; Performance Pants, Polo Ralph Lauren; Wrist Bands, H&M.
When a Chicago cold spring day isn't always bone chillingly cold and it's a rare bright sunny day – mix up your wardrobe that day. Wear a new Polo shirt with a newly acquired spring jacket that has some warmth and style built into it with quilting. This particular look, though around for a while, and mocked by some, is also not going away any time too soon. The reason: it just looks great.
Jacket, & Belt, H&M; Shirt, Polo Ralph Lauren; Jeans, Hudson.
Finally a day will arrive that agrees it is indeed spring – just in time to try out a warm weather staple – a linen sport jacket. And not just a dull, natural, tan linen – but a fresh, light blue tweed with a surprise white piping trim. Go all the way with the warm weather look with a bright floral patterned shirt – but keep the pattern small so as not to rob the freshness of the jacket.
Sport Jacket, Tommy Hilfiger; Shirt, Nick Graham EVERYWHERE; Jeans, H&M; Belt, Reaction Kenneth Cole.
There is something to be said about planning your wardrobe choices by sticking to a color palette that is not only right for an individual in regard to that person's skin tone, eye and hair color etc. – but the flexibility it can give someone to mix up key pieces at any given moment. A basic slim sport jacket in a gray teal is a good one. Add in a basic blue pin stripe dress shirt and khaki jeans, and you'll have three pieces that can mix with anything and will work overtime to carry you through to the rest of spring and summer as well.
Sport Jacket, Khakis, Shirt, Pocket Square, Belt & Tie, H&M; Boots, Model's.
*Photography, Alejandra Guerrero, www.alejandraguerrero.com; Model, Luke For Ford Models Chicago; Grooming, Ashley Condron; Styling, James Vincent, www.tradeshowoffs.com; Shot On Location At Celeste,www.celestechicago.com