Pivot To Fall 2016 – Keep It Simple, Slim And Smart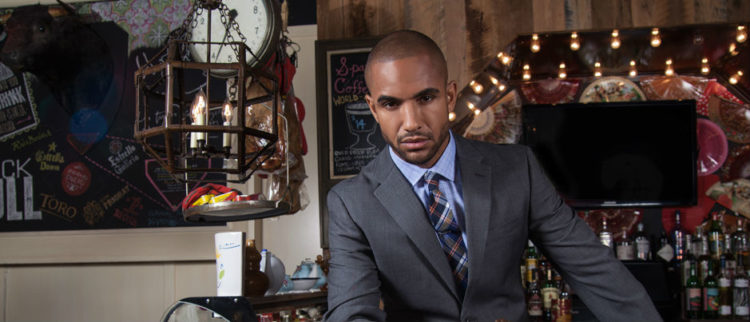 Written & Produced By James Vincent
Shopping for new fall clothing in August – especially in Chicago where the dog days of summer drag into all of their hazy and humid glory well into September – can be challenging. It seems we'll be lazing around forever late evenings at our favorite outdoor cafes.  Blackbull is a favorite spot in Chicago's trendy Wicker Park neighborhood for Tapas and your favorite Spanish wines. Chef Marcos Campos explores the exquisite products and flavors found throughout Spain with a variety of dishes that represent the essential pleasures of his country's traditions and others that provoke and surprise with new textures and techniques.
And while you're lounging around enjoying Tapas and wine and people watching, you can't help but notice that even on a warm evening – the ever present slim fashion silhouette of just about everyone. That's right – the slim factor is not going away any time too soon. A new season is as good as any time to invest in a few pieces to update your wardrobe – no need to go hog wild, but a little slim – not skinny – can do a lot to freshen up your look.
Start with a good basic suit like this medium gray one from Tommy Hilfiger. This suit can take you from late summer in its lightweight all season fabrication well into fall and winter. Here, paired with a Hilfiger shirt and updated with heritage brand Penguin slim tie, it's perfect for a formal office setting and can get you into evening too.
Suit & Shirt, Tommy Hilfiger; Tie, Penguin; Tie Bar, Vintage.
This suit is so simple and versatile that it can be easily dressed down. Say you want to have a casual yet sophisticated look for an after work dinner – but no time to go home for a quick change after your workout. No problem – just throw in one of your better tee shirts and a pair of sneakers into your bag and you'll be set to go – as here with this ultra-soft Michael Kors long sleeve pocket tee.
Tee, Michael Kors; Belt, Calvin Klein; Sneakers, Mark Nason.
Staying in a neutral palette of black, gray and white is a good trick in developing a versatile wardrobe. It also helps neutralize the slim factor so you're not looking too much like a fashion victim rather than an evolving modern look – too much color with a slim look is adding on one too many layers of modern.
Pattern is a good thing with black and white. A versatile and subtle plaid sport jacket can have many incarnations for work wear. This one from Vince is cut slim – but not too slim. Pair it with medium gray trousers and a tiny print shirt with the now ubiquitous 'skinny' tie and it's good to go to work – and out for the evening as well. Another nod to a more modern look – choose a more "sportswear" style shirt, not one that's from the "dress shirt' section. It won't look quite so office. As well, don't button the top button and loosen the tie a bit and off kilter the knot from center for a bit of swag. All in taking a traditional look and giving it more of an individual look.
Sport Jacket, Vince; Trousers, Louis Raphael;  Shirt, English Laundry; Tie, Penguin; Pocket Square, Nordstrom Rack; Tie Bar, Vintage.
This same jacket when dressed down with a Polo and jeans almost looks like a different jacket. Here's your opportunity to mix in some color – this deep moss green is the perfect fall accent color to black and gray. The black and white collar subtly keeps it in the same palette. Roll up the sleeves a bit and it's a whole new look.
Polo, Marc By Marc Jacobs; Jeans, Citizens Of Humanity; Belt, Mara Giordani; Pocket Square, Nordstrom Rack; Wristbands, H&M.
What would autumn be without tweeds? But not just any tweed – update your tweeds with this versatile gray and black sport jacket  with a contrasting black collar. The slim fit here also gets shortened a bit – bringing in more of the modern silhouette. But don't go too short or you'll look like your cleaners sabotaged you. A good rule of thumb on jacket length – it should end right where your butt starts to curve under.
Sport Jacket; TOPMAN; Jeans, Michael Kors; Shirt, Bristol & Bull; Tie, Pierre Cardin; Tie Bar, Vintage; Belt, Nautica; Pocket Square, Nordstrom Rack.
The smart and versatile aspect of this jacket lies in the contrasting collar. It can be subtly dressed down – as here with a purple Polo and on trend track pants in traditional men's herringbone fabrication. It could also very easily go semi-formal with just a few switch outs. Add in a good dress white shirt with some slim black dress trousers – both with some  sheen to them – and a black bow tie, and for a semi-formal event – you'll look like you planned this outfit all season.
Polo, Penguin; Track Pants, Zanerobe.
*Photography, Alejandra Guerrero, www.alejandraguerrero.com; Model, Anthony for Ford Models Chicago; Grooming, Ashley Condron; Styling, James Vincent, https://www.tradeshowoffs.com/ ; Shot On Location at Black Bull, Chicago, http://www.blackbullchicago.com/