Hit The Road Fall/Winter 2015 – 7 Looks That Will Propel You Through The Season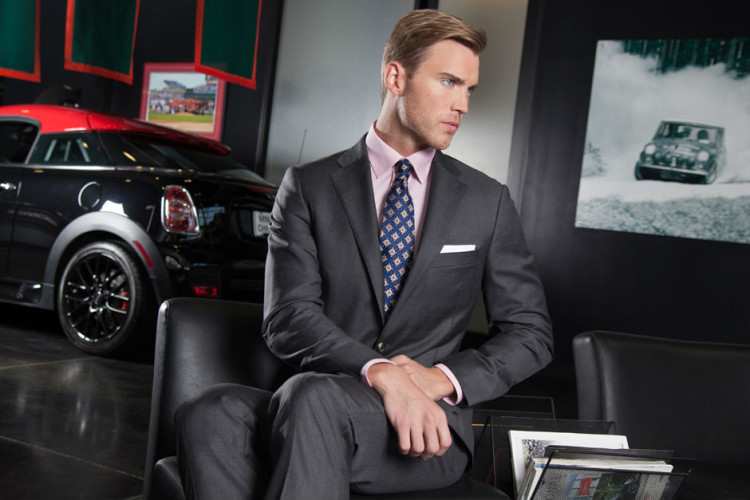 Written and Produced by James Vincent
Not all business trips involve an airport. What is it about a new automobile that inspires a guy to look his best? Looking your best is especially important when you're in a brand new Mini from Field's Mini of Chicago, featured here this month on location. When driving for a business trip – that will also include a lot of socializing – there is no need to worry about trying to cram a wardrobe into an airline regulation size small carry-on bag.
Start out your road trip and arrive in style with an eye catching dressed down suit – like this slim, fitted, updated window pane plaid. Suits have never been, well, less suit like. Treat them more like sportswear. Nobody expects to see a hoodie with a suit, which is why this look is so eye catching. By simply trading out a shirt and tie for a hoodie – you've created whole new use for a suit – and shown how confidant and relaxed you are in it. That same suit will still be in your suit arsenal –but this look will give you more bang for your suit buck.
For a business meeting of any type, nothing says business more than a solid gray two piece suit. It doesn't have to be your signature look, but it's always gonna work. Tie/shirt combinations are endless with a solid medium gray suit – play it up with an unexpected pink shirt – good for any season – and pair it with a classic, updated foulard tie for a solid business look
Another solid, classic suit option that can also take you into an evening dinner after a day of business is this Glen plaid. Don't let the fact that it's plaid limit your choice of shirts and ties to solid colors. This subtle, muted coloration in brown and blue is just begging for a sophisticated shirt/tie/pocket square combination – like this light blue shirt with a blue tonal paisley tie and a blue and brown plaid pocket square – a crisp and neat autumn look.
But don't always think that a suit is the only way to go for business. With the right tailored sport coat and trousers – you can go business anywhere – as in this soft, blue-on-blue, updated windowpane plaid with a classic pair of gray flannel trousers. Be fearless and go with a complementary blue plaid tie – the offset angle of this plaid combined with a brighter hue makes it work. Throw an updated foulard pocket square in and it's a dressed up business look that will take you anywhere.
As with any business trip, you will have your dress down moments – seeing the sites in between meetings, Saturday morning breakfast – whatever – but, you're still mixing in business, maybe going to the gym, sending out emails from your ride share.  It's still your chance to look your best – but with an individual style of your own. Some are calling it "athleisure" – you're mixing up what you're doing with your day so why not mix up your wardrobe too? It's OK – in fact really OK now to wear a pair of tailored sweatpants and sneakers with a sport jacket – like this subtly hued red and gray plaid jacket paired with this ultra-soft crew neck sweater. In fact, you might like the comfort of the sweatpants + an incredible look so much that you might give up the standard jeans with a sport coat more often.
Plaid jackets and suits are back in a big way and what better time to break one in than when you're out of town. And make it a loud plaid like this killer blue and brown number. And to make it your own – don't stop with the plaid jacket – pair it with a shirt in a smaller plaid  in the same colors but muted – and a vintage vest in one of the plaid colors. Throw in a splashy pocket square and a pair of distressed brown jeans and you've got a late afternoon casual business look that will take you into cocktails and dinner very nicely.
You'll probably have at least one evening where you just want to be totally relaxed and slip in someplace unnoticed – or not. What a great look to end the trip – a sophisticated, moody, dark blue velvet jacket. Dress it down – like here with a pair of dark blue distressed jeans, and an open neck tie less shirt – and it really speaks to your fashion language of being comfortable enough to wear casually what someone else might think is to be only dressed up. Not only will you look and feel great – when you get back home, you can wear it dressed up with trousers, white shirt and a bow tie to your next formal event.
*Photography, Alejandra Guerrero http://www.alejandraguerrero.com; Model, Tommy for Ford Models Chicago; Grooming, Ashley Condron; Styling, James Vincent https://www.tradeshowoffs.com/; Location: Field's Mini of Chicago http://www.miniofchicago.com